ARE YOU INTERESTED IN ADOPTING ONE OF OUR HORSES?
See our adoption guidelines here.
Contact Polly Bance - pollybance@gmail.com
After making an appointment with Polly, please print, sign, and bring our release form, (located here) with you for your test ride!
HORSES ON THIS PAGE ARE LOCATED IN Palmyra, VIRGINIA -
PLEASE CONTACT POLLY TO MAKE AN APPOINTMENT
Can't Adopt?
You can still make a difference in the lives of our horses:
THE FOLLOWING HORSES HAVE NO LIMITATIONS FOR A FUTURE CAREER
KEY VICTORY
15.3 hand dark bay gelding, born May 6, 2005 (Western Expression - Game Dana, by John Alden)
Raced 52 times, 2 wins, 5 seconds, earned $114,189
Key has such a great personality and is easy on the eyes too. He's a nice-looking horse with a sweet personality, the perfect gentleman! Key goes walk, trot in the ring and is fabulous on the trail. His canter is a bit unbalanced at the moment, but it is coming along nicely. He gets both leads, but the left is a little tougher for him. Key would be best suited for an intermediate rider since his canter can be a bit quick and unbalanced at times.
NIN PIN
hand bay gelding, born April 15, 2011 (Smarty Jones - Flag Pin, by Personal Flag)
Raced 3 times, 1 second place, earned $9,811
Coming Soon!
COLE'S POSSE
16.1 hand chestnut mare born April 18, 2011 (Posse - Sage Burner, by Cape Canaveral)
Cole's Posse is just starting her training again but has a good attitude. She's a big girl but has nice manners, still green but willing to learn and to please. She's flashy, too--check out those white socks and pretty head! She does have an old injury that should limit her to light jumping.
The following horses have been adopted. Congratulations to our new adopters!
rock - ADOPTED!
located in Fluvanna County, Virginia--please contact Polly Bance.
6 year old 16.3 hand Thoroughbred gelding for adoption. Rock is big, sweet boy who would love to be someone's pet. He has a solid training base and is great in the ring and on trails. Crosses creeks, ditches, and will jump small jumps. He is a naturally quiet, uncomplicated horse but is still green and is not for a beginner or weak rider. He will round up on the bit and has lead changes both directions. He has a big trot so is not for someone who has hip or knee problems. Large enough to carry a man.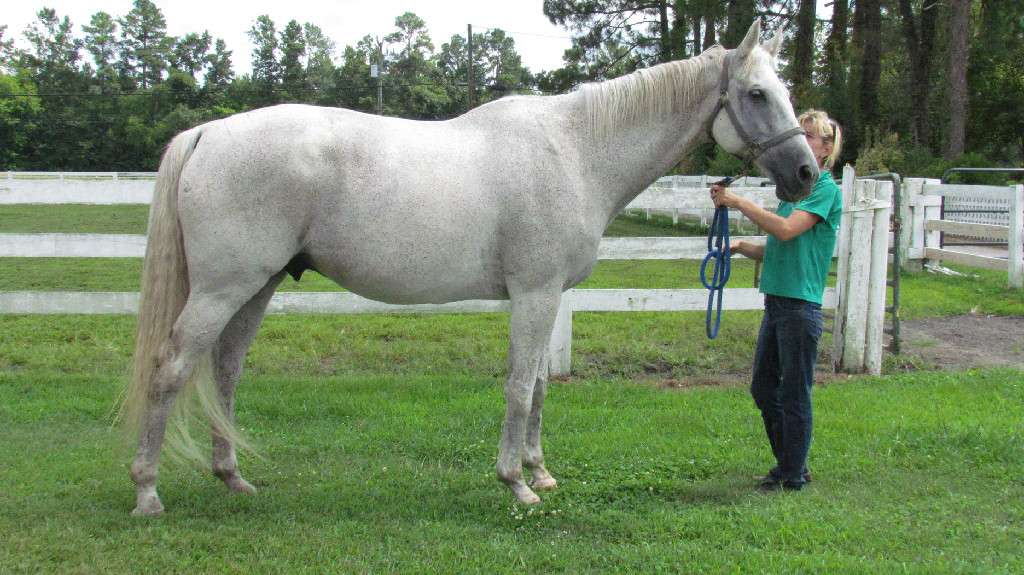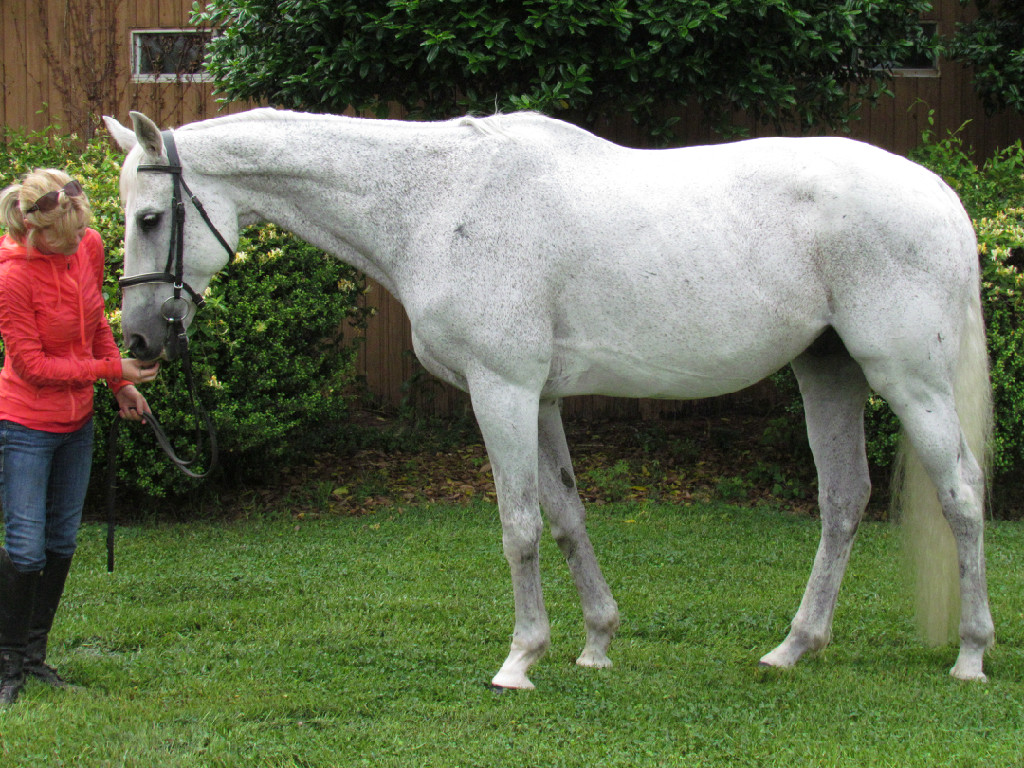 ADOPTED! Direct Current
16.3 hand grey gelding born May 2, 1995 (Cahill Road - Current Gal, by Little Current)
53 starts, 4 firsts, earned $59,749, last raced 2004
This fantastic gelding has many stories to tell - saved from New Holland's kill pen, he was later found on Craigslist in desperate need of a home and some weight. Today he has transformed into the gorgeous Thoroughbred he was always destined to be. DC can do a bit of everything from dressage to jumpers and has even trail rode on the beach - he would make a fantastic lower level all- around type of horse and is easy to handle in all respects, he even self loads onto the trailer! He showed at the TB Celebration show in June and won a 2nd and a 4th in Intro Dressage, schooled around a 2' 6" hunter course complete with flying changes and was the recipient of an award for Most Starts having ran in 53 races.